WhyiLike's Handwritten Customer Reviews Bring Additional Layer of Trust and Authenticity Other Review Sites Cannot Promise.
FOR IMMEDIATE RELEASE
PRLog (Press Release) – Jun. 18, 2013 – HOUSTON — With the busy day-to-day operation of running a business, every business owner knows it is tough to get customer reviews. This is why WhyiLike has launched its new customer review service, a powerful tool that helps SMBs generate and promote more customer reviews.
Customer reviews are a key component to any SMBs marketing plan and incorporates many facets of everyday marketing including social media, content marketing, search engine marketing and of course reputation management.
WhyiLike is different from other review sites because it has developed a system that uses handwritten customer reviews that are written while the customer is still at a business or interacting with a service professional. This is paramount to the authenticity of client reviews because the reviews can be verified and traceable to the user.
"Customer reviews are key to any SMB's success because they provide additional insight into how a business runs and sets expectations for the new customer. Handwritten customer reviews add an additional layer of trust and authenticity that most review sites cannot guarantee." said Shervin Kalinia, CEO of WhyiLike.
WhyiLike provides clients with review cards that are scanned, transcribed and placed on the client's custom designed WhyiLike review site. The reviews are then submitted to the major search engines as well as social media sites like Twitter, Facebook, Pinterest and Google Plus.
According to Kalinia, "The feedback we've received from business owners so far, has been remarkable. Some mention that their 5-star reviews are showing up on Google, while others mention how WhyiLike has improved their level of customer service.  All in all, this is a very powerful marketing tool and we are excited to be offering it to SMBs across the country."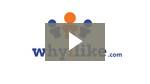 If you would like more information about http://www.whyiLike.com or would like a demo call 855-949-4545.