We have seen during the past couple of years that consumers are increasingly turning to online reviews to help them find a good healthcare practice for themselves and their family. When searching they are looking for more than just a list of services, a doctors bio or the newest procedure. What they really want to know is what other people think and learn from their experiences with a specific doctor or practice.
By employing patient reviews a practice will be able to better market their doctor and services by building trust and confidence in the practice. A good patient review provides the insight that marketing cannot. You can develop all types of Tweets, Facebook posts and blog articles but you don't really build trust without a good collection of patient reviews.
Rank Better In Search Engines
Patient reviews in themselves are good but they also have to be indexed in the major search engines to be effective. Patient reviews that are indexed will help search ranking because the content within the reviews is relevant and up to date. Search engines like that because they want to be able to provide the most relevant, up to date information possible to their users. It is a win-win-win… The patient wins because they can learn more about your practice. Your practice wins because you can increase patient volume as more patients learn about you and the search engines win because they have relevant search results that will bring visitors back.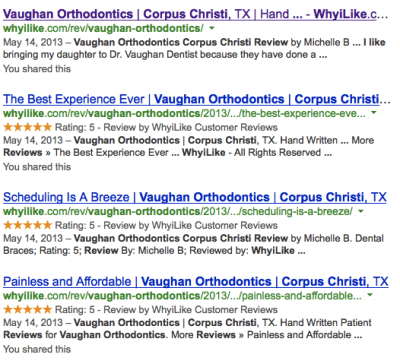 As your practice receives more reviews you can improve your practice's visibility. As you can see by the image above, we have seen some of our clients have multiple reviews come up on the same page of a search result. It is basic math, the more reviews equal the possibility of more visibility.